As mentioned in a previous post, we were lucky enough to be invited along to an NAEA event to give a presentation on how agents can benefit from social media. We had the chance to meet a few new faces and give a small insight into what we do day-to-day with our social media management service. It seemed to go down really well and it looks like it caught the attention of a few people in the room who wanted to know a little more…
We were asked if we wouldn't mind putting together a little more of an in-depth insight into how best to deal with social media for the property industry for a future event. Helping the property industry adapt online is why we're in this business in the first place so we were only too happy to oblige.
Earlier this month, we made our way to the Bristol regional conference along with a great range of other property providers and industry experts. Alongside us we had the likes of Fixflo, NFoPP, HM Land Registry and a handful of amazing motivational speakers, it was a genuine pleasure to be part of such a high profile event.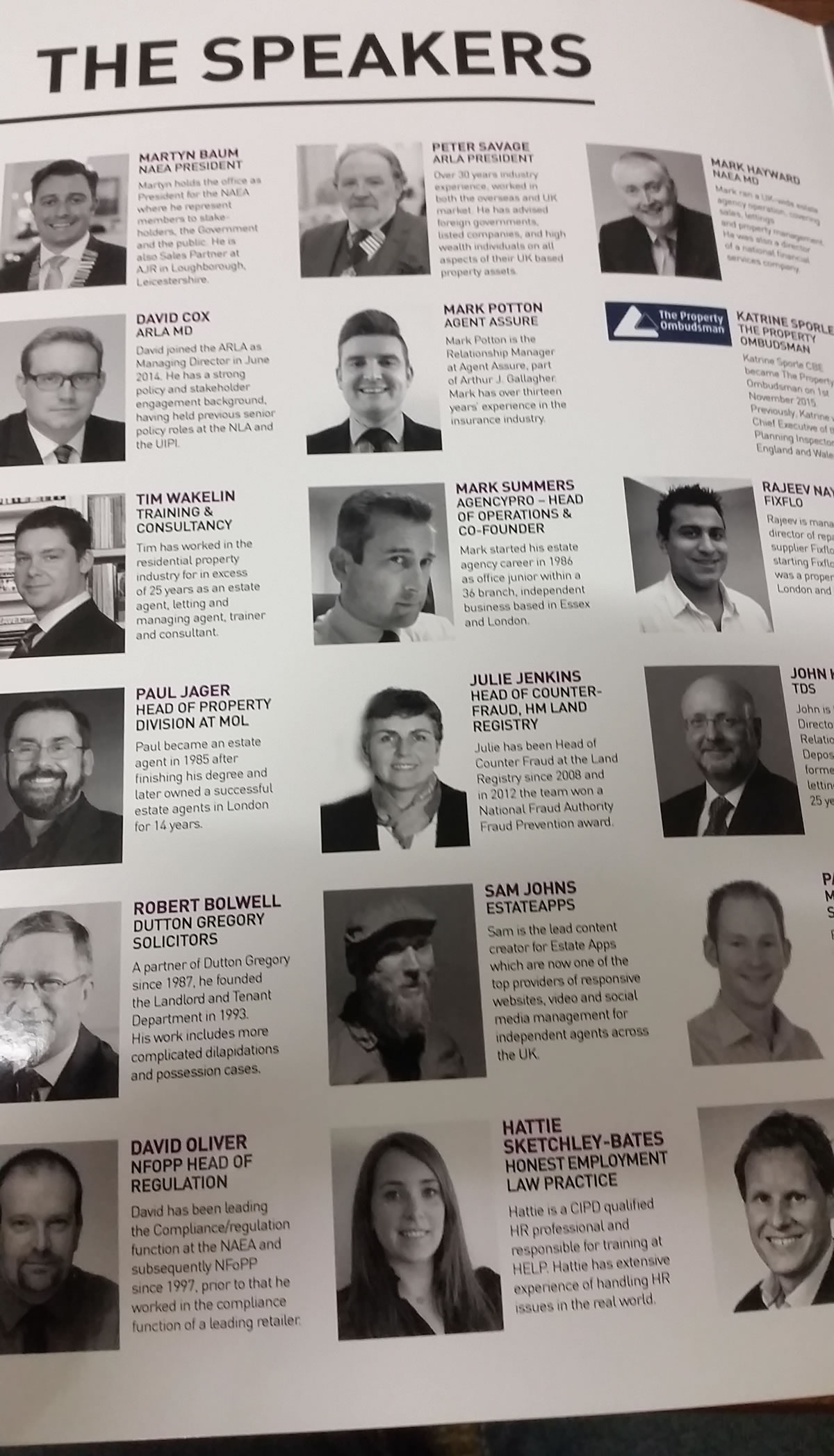 I even got my picture in the programme!
Being one of the last people to the stage that day, it's no wonder people were a little tired by the time we got up to deliver. Luckily, being about social media, we had room to throw in a few more fun little bits that got a few giggles from the room, perking everyone up a little before the big end-of-the-day discussion panel. Even the NAEA president seemed to have a good time:
Brilliant stuff from Sam @EstateAppsUK at @naea_uk Bristol. Some say the agent in this picture looks familiar pic.twitter.com/XOVNtrw87F

— Martyn Baum (@mjbaum) February 4, 2016
We had some fantastic feedback from the day too but don't just take my word for it! Dale, the NAEA event manager, had these kind words to say about our presentation:
"After seeing Estate Apps present at another event, we instantly knew their company was something we wanted to be part of. We offered Estate Apps to speak at our most recent NAEA ARLA Bristol conference and with great delight they accepted. The feedback we received from delegates who attended the event was excellent after Sam's presentation. Following the success of this, we aim to work very close with such a well put together organisation."
As if that wasn't an amazing opportunity within itself, things went so well we received an invite back the following week! One of the local NAEA masterclasses was missing a speaker so we were kindly asked to stand in. We couldn't have asked for more from our visit to the NAEA, it's great being able to share the knowledge we have and for agents who are genuinely interested in delivering better engagement with their local area (and beyond!).
We hope to be at another event soon so, if you see us, be sure to say hello!