We've covered social media in a few previous forms before, but in this blog we're going to go further in-depth and cover various points as to what social media is, what to do with it and how it can help your estate or letting agency business.
First things first, what is social media?
It might seem like a silly question but it's important to understand exactly what it is before we see how we can make it work for us.
The social media craze kicked off in 2002-2003 with the launch of Friendster and MySpace. These new platforms were the first to allow users to create profiles and communities based on their interests and allow friends to interact with each other. As a side note, MySpace is still up and running and is actually going through a bit of a minor comeback! If, like me, that news got you nostalgic and you want to be forever embarrassed at what you were like 10-12 years ago, dust off your old login details and see what your profile picture is! Here's mine: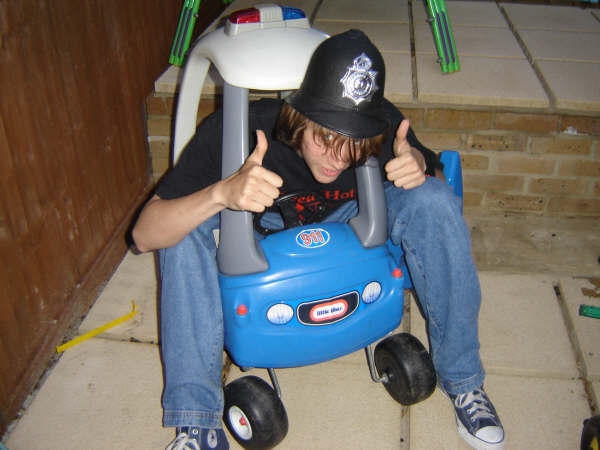 Oh dear...
Since the days of shocking hair and even more shocking fashion choices, social media has evolved into what we know it as today. It's less about one or two particular sites and is more of an umbrella term that we use to describe our online profiles, the content we share and consume, and accounts for the many personal interactions we have online with others. In short, it's one massive online conversation that we're all a part of.
How does this affect you?
When it comes to social media and your agency, why should you care? To understand why it should matter to you, you need to understand the behaviour of your modern audience.
As we should all know by now, virtually all property searches begin online these days. Sure they mainly start on the major portals but from there, users will follow through to the websites of agencies they are looking to deal with. This isn't something new as we all want to know a little more about the businesses we'll be dealing with. However, one of the lesser recognised parts of your customers journey is their use of other platforms.
Many people looking to buy or sell property will turn to social media, asking people they know and trust for recommendations and advice about how to proceed and, more importantly, who to proceed with. This is something that we're observing more and more across many different industries and it's not showing any signs of going away.
Isn't this just a fad?
No, that's the short answer.
What we're beginning to understand and adapt to is the fact that social media isn't a passing trend that'll be gone soon. How do we know this? Well, that's thanks to my grandparents.
The fastest growing demographics on social media are 50-65 and the 65 plus. When we start to see older generations accept and embrace new trends, we tend to understand that it's here to stay. It's for that same reason that when I visit my grandparents they have colour TVs, Kindles and WI-FI access but they don't break out the Pokemon cards and see what shinies I've got to swap.
The problem for businesses here though is that it's a massive change in the way that we communicate with our clients and that our clients interact with each other. For a lot of businesses, change is scary! I totally understand why in this case, it's not only something new to learn but getting to grips with social media is a very public experience. It can be a little daunting, however it's quickly becoming a "must have" and not an added extra.
Change is here
The changes we're seeing in consumer behaviour shows that we're no longer responding to business monologues and one-way communications, we're expecting more of a conversational approach. This means promoting content and interaction in the places where we once saw self promotion and one sided business messages. We're choosing to engage with businesses in a different way now and we've got the numbers to back that up.
Everyday Facebook gets over 1 billion users log on to use their platform, 1 billion! That's about 12% of the world's population jumping on every day, with at least an extra 500 million every month it's close to 1 in 5 people worldwide! Of those incredible numbers, we're seeing Facebook users consume over 8 Billion video views every day. That's a staggering amount of content we're choosing to engage with, we're actually going out of our way to find it. Even Twitter with its smaller user base of 320 million generates 1 billion clicks to external sites a month.
These numbers go hand-in-hand with the fact that people seek out social proof before they commit to a decision. In the world we live in now, we're subjected to roughly 3000 advertising messages a day. This is across TV, radio, billboards, online even in our own homes on products we already own, everyone is trying to sell us something. What's interesting though is only about 10% of people believe these advertising messages as opposed to 70% of people who believe in the reviews of others. Between the 10% and 70% of people, I know who I'd focus on!
While we're on the subject of reviews, people are talking about your business. Whether you're the new kid on the block or you've been established for decades, people are talking about you. What's important is that you make sure that it's not just about you, it's with you. Making sure you're part of the conversation means you'll have some sway in how the conversation goes. Not turning up to the conversation can cause quite a problem...
What happens when I'm not on social media?
There's already a great example of what can happen when you're not there to get involved, let's take a look at London's biggest Estate Agent: Foxtons. Foxtons is well known for having very little social media presence so let's see how that's going.
On Twitter they have no presence; this has lead to the public creating the handles @avoidfoxtons, @foxtonslondon along with various other accounts that are set up to talk on the agencies behalf. So what are people saying?
And that's some of the tame ones...
Things get worse on Facebook. To their credit they did set up a page in 2011. The problem however is they have since updated it just once. No posts, no news, no content, just a cover photo update. They've also set up a second page which is very slightly more active (five updates over the course of 2014) but this one has literally hundreds of complaints that have been unanswered and no engagement at all! All of this has left them with a rather undesirable 1 star review. As more people start to investigate businesses on social media his will surely have a negative impact on their sales.
So how should you be doing it?
The best way to get started is to be active in your local area, connect with other local businesses. For the most part, your target audience will be their target audience and beginning with them will start to build a foothold for your following to start growing.
Once you've got a fair number of followers, start analysing them. Do you have more men or women followers? What age-range are they? And when are they active? This will allow you to better target your content. There's no point sharing the latest Kim Kardashian gossip on a Thursday night when your follower base is mainly 50-65 year old men who are most active on a Tuesday morning.
Understand what types of posts work best on what platforms. Facebook are trying to beat YouTube in being the number one online video resource and to do that they're actively pushing video to appear in users' news feeds. It's actually 135% more likely to appear than a photo update! Whereas on Twitter, compared to a text update photos are 35% more likely to gain retweets as they stand out much more.
Never buy followers. There's a lot of companies out there who say they can get you 10,000+ followers over night. The only thing this will do is boost your ego and will actually do nothing to help your social media presence. Growing your audience organically will mean that you'll have people who actually want to hear from you and will interact as opposed to thousands of accounts that may as well be ghosts.
Lastly, don't only upload your new property details. People don't follow you just to see what's latest on the books, they follow you because you're interesting! Sharing and creating high quality content is the best way to talk to your audience and posting property detail after property detail will have them turning off very quickly!
So how can social media help you?
The holy grail of social media isn't just brand exposure or free advertising, it's creating brand advocates. Getting members of the public who trust your business and are so happy with the service you provide that they do the sales pitch for you. As I said earlier, people trust other people. You're far more likely to gain new business from a customer referral than a plain advert.
To give you an insight to our experience, we've been making social media a focus for about 18 months now. In that time we've grown to over 4,000 followers which is impressive, but not what's important. What is important is that we've got a great community of amazing followers that we regularly engage with who not only provide us with great industry insights, they're happy to recommend us to their own clients. We've made good friends and strengthened win – win business relationships.
So instead of sitting alone away from the world of social media, it's time to step out and get involved in the world's biggest conversation!  Not only will you be benefitting your business, you'll be benefitting your clients.
Need a little more help getting going? Let us know and we'll talk you though our Social Media Management service.